Last week we posted about two of our luxurious properties, Boca Bridges and Seven Bridges. Both properties, located in Boca Raton and Delray, are known for their resort-style amenities. The lifestyle in Delray and Baca Raton is unmatched — from perfect beaches to amazing restaurants — there is something for everyone. Below, we break down two more of our sought-homes, Polo Trace and Lotus.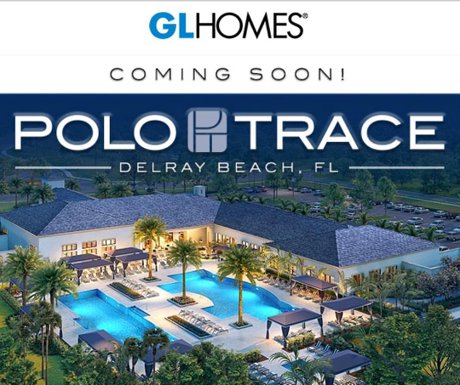 Polo Trace is luxury living re-imagined with this brand-new property filled with incredible resort-style amenities. You can sun-bathe by the pool, grab a quick bite at the cafe, or enjoy an exercise class — all while remaining on property grounds!
If you decide to venture outside of property lines, you'll find the Tuscany Shoppes, Delray Marketplace, Canyon Tower Center, Boynton Beach Mall and Town Center at Boca Raton all within 10 miles of your home. The property is also just a few miles away from the Florida Turnpike, US-441 and I-95, making it a quick and easy commute to wherever you work.
Polo Trace is also the perfect spot if you love the outdoors. It is just a hop, skip and a jump away from the nearest beaches and parks. You won't have to drive very far to visit Atlantic Dunes Park, Gulfstream Park, Spanish River Park, Lake Worth Pier, Green Cay Nature Center & Wetlands and the Morikami Museum and Japanese Gardens.
At Polo Trace, choose from multiple single-family home designs with an impressive list of high end features and furnishings. Homes start in the $500s, and you can be one of the first to snag one of these beauties by contacting Gale to get on the VIP list.
Another property that we are currently working on is Lotus. The Lotus lifestyle is centered around a whole new contemporary vibe. From a spectacular Clubhouse filled with modern amenities to a resort-style pool, Lotus is the perfect place to live out your modern, luxurious life.
The property features an elegant lounge where you can socialize with friends, a patio bar perfect for spring evenings, and a full gym with courts and yoga classes.
Lotus also features one-of-a-kind landscaping. As you enter the property you'll find a spherical water feature encircled by lush tropical plants, creating a grand statement that welcomes you home. Inside the property, you'll find beautifully manicured streets with gorgeous water and garden views around every corner.
For more information about Polo Trace and Lotus call Gale Lehner at 561-314-8487, today.